An intimate view: glimpses from the photograph exhibition at the Indira Gandhi Memorial Museum
Wednesday, 06 December, 2017
Source : The Hindu
"Indira: A Life Of Courage" brings to fore the charismatic and vulnerable side of the country's first woman Prime Minister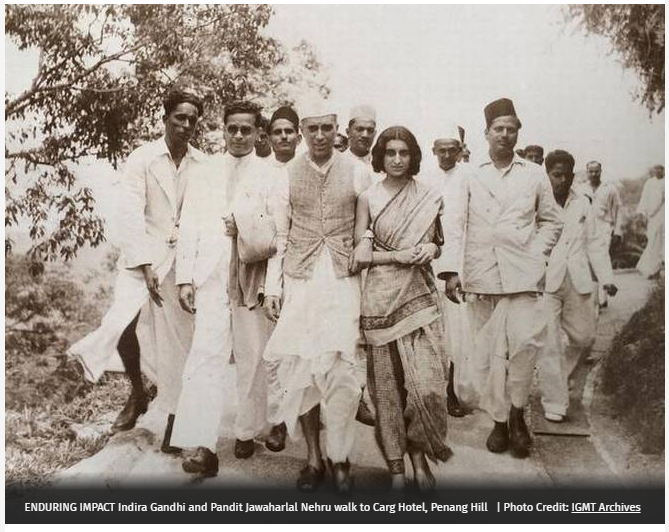 When Ivanka Trump, daughter and advisor to the US President Donald Trump, landed in Hyderabad for the Global Entrepreneurship Summit, memories of another father-daughter combo rushed through the mind. In the '50s, media was flushed with images of Jawaharlal Nehru and Indira Gandhi working in tandem. In fact, she was the personal assistant and hostess when Pandit Nehru was the Prime Minister. This bond comes through in an ongoing exhibition of photographs at the Indira Gandhi Memorial Museum. In one of the iconic photographs, we see her with Pandit Nehru at Penang in Malaysia. "She accompanied him when he campaigned there to raise donations, underlining her role in the Freedom Movement," says Deepthi Sasidharan, who along with Pramod Kumar K.G. of Ekta Research, has curated the exhibition.
They have picked 300 images from a collection of 90,000, capturing both the charismatic and vulnerable side of the former Prime Minister, who continues to inspire.
"It began as an archival documentation and digitisation project four years ago. The objective of the show is to display striking images of Indira Gandhi's life, and through these present her life and legacy in pictures and objects. We also chose seminal markers in the history of India that were synonymous with her life as she was witness to these historic events," says Deepthi. For instance, they have juxtaposed images of the Nehru family, headed by Pandit Motilal Nehru, espousing the cause of Swadeshi when the whole family gave up luxurious goods and switched to wearing hand-spun khadi. "So the earliest images have them wearing opulent and foreign clothes at their ancestral home, Anand Bhavan while the latter ones show the perceptible shift as they are depicted wearing khadi and indigenous clothes, without any jewellery."
A telling image has Indira Gandhi holding a foreign-made tiny doll with a lot of affection. "It is said that after much deliberation, she decided to burn it in keeping with the family's decision to use everything swadeshi," relates Deepthi.
With so much already in public domain, the curators focused only on rare and beautiful pictures. "We have lovely pictures of newly-married Feroz Gandhi and Indira which were clicked by them during their honeymoon at Gulmarg. Then there are those of Mahatma Gandhi with Indira Gandhi, who was very close to him." One shows young Indira next to him at New Delhi in 1935, while another, a poignant shot of her on the steps of the special train carrying Gandhi's ashes from New Delhi to Allahabad, clicked very aptly and timely by D.G. Tendulkar.
"Another rare image is the one clicked at Belchhi in Bihar where she went after 11 people were killed. A one of its kind picture, it marks her comeback after the 1977 elections," notes Deepthi.
Besides exclusivity, the curators were also guided by technical aspects like execution and clarity and the aesthetic appeal which included the play of light and shadow and more importantly the emotional appeal.
Aesthetic appeal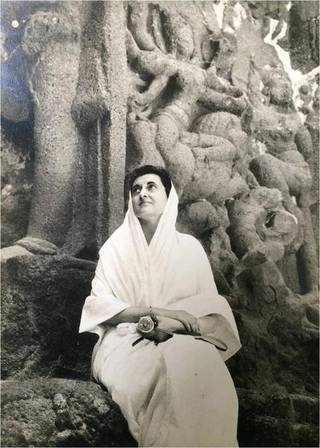 An intimate view: glimpses from the photograph exhibition at the Indira Gandhi Memorial Museum
The solo image of Indira Gandhi taken right outside the Mahisasuramardini cave at Ellora, is one such example. Shot by Rajiv Gandhi, it was taken during the trip to Ellora, organised in an effort to cheer her up, a year after Feroze's death, in 1961. "The image captures the moment when Indira smiled for the first time since Feroze's death and in some ways her coming to terms with the future. The backdrop of the statues speaks volumes about Rajiv Gandhi's aesthetic touch.
Then there is a powerful image of Indira Gandhi at Ladakh walking with General O.P. Malhotra, Chief of Army Staff with armymen standing erect on either side and the mighty Himalayas forming the backdrop.
Indira Gandhi photographed against the Himalayas at Mashobra, Shimla, 1972
Among the notable photographers whose images have been included are Jitendra Arya, Sunal Janah, Raghu Rai, Kishore Khamboj, Dilip Mehta, PK Sharma, Jay Ullal, Mark Riboud and Sven Simon among others. Five images of Rai are there. One of them clicked in Mashobra near Shimla, is an absolute stunner. Clicked at the hills which she was very fond of like her father, it shows her in silhouette. Rai remembers Indira as a "warm, emotional and lover of arts". "She really cared for photographers, allowing them to come close. Her feelings were genuine, which made her a delight for photographers. For the Mashobra picture, I had requested her to walk on a parapet, and she readily agreed."
On the exhibition, organised as part of her birth centenary celebrations, being titled, "A Life Of Courage", Deepthi says, Indira Gandhi demonstrated courage throughout her life. There are audio video clips from the Bangladesh war that underline her resolve. "From when she was a little girl in a family in the midst of the freedom struggle to her several terms as a minister and Prime Minister, she always faced situations and problems with courage and equanimity."
Indira Gandhi with weavers from Apatani community, 1964
Personal belongings on show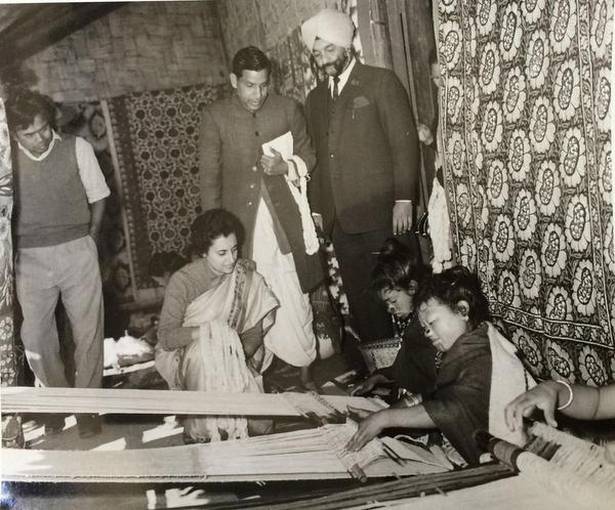 Of the personal belongings, on display are saris worn by Indira Gandhi, her preferred choice of attire. Worn during her important state visits and other memorable occasions, they reflect her deep understanding and affection for the traditional weaves and embroideries of India. They include a printed silk sari worn by her during her bilateral talks with Zulfiqar Bhutto that culminated in Simla Agreement in July, 1972 at Simla, Himachal Pradesh.
Also on display is a Mizo dress and necklace worn by her and there is a copy of "All the Mowgli Stories", her gift to an eight-year-old Rajiv on his birthday in 1952 and the first copy of 'Discovery of India' signed by Pandit Nehru and addressed to her. Indira's scrap book containing various photographs of her parents, other family members and travels with her parents in the 1920s can also be seen.