An exhibition on Indira Gandhi chronicling key personal and political moments
Tuesday, 19 December, 2017
Source : Indian Express
The exhibition "Indira: A Life of Courage", commemorating the birth centenary of the former Prime Minister, traces her life as one of the prime influencers of India's history.
At the age of five, Indira Priyadarshini (Gandhi) was faced with a difficult choice. A family photograph on display on the lawns of Indira Gandhi Memorial Museum shows her seated on a stool, clasping a doll. It was taken during the period her family was burning down all British goods, from clothes to draperies, at their home, as a rejection of British products. After being reminded by a family friend that the doll was made in Britain, she made a small bonfire and tossed one of her favourite toys into the flames. Decades later, in an interview, she would describe the feeling as of "murdering someone".
The exhibition "Indira: A Life of Courage", commemorating the birth centenary of the former Prime Minister, traces her life as one of the prime influencers of India's history. Culled from 90,000 images, the exhibition comprises over 300 blown up photographs. In one, she is seen, grim, on the steps of a train carrying the ashes of Mahatma Gandhi from Delhi to Allahabad. In another, she is standing next to Albert Einstein with her father Jawaharlal Nehru at Princeton University.
There are shots of her with former US President John F Kennedy and his wife, Jacqueline, at the State Dinner in Washington in 1961; with President Zulfikar Ali Bhutto of Pakistan during the signing of the Simla Agreement in 1972 for "committing India and Pakistan to abjure the use of force in resolving differences"; as well as with Raj Kapoor, Asha Parekh and Meena Kumar during their meeting at Raj Bhavan, Mumbai, in 1967, and with Lata Mangeshkar.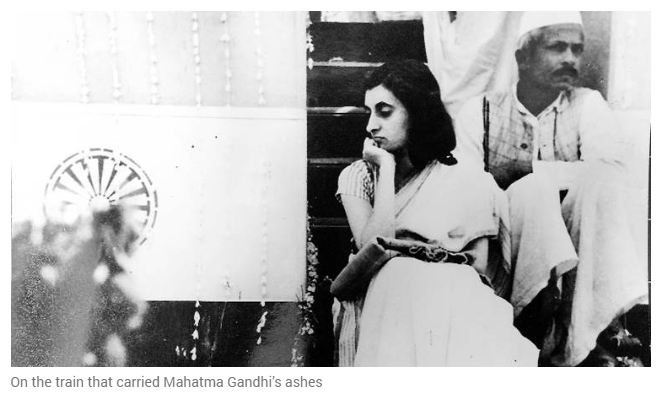 On the train that carried Mahatma Gandhi's ashes
"The project started four years ago and the end result was an exhibition chronicling her life in the rooms at Swaraj Bhavan, Allahabad, in November last year.
It was the place Indira was born. In Delhi, a major challenge was to bring an exhibition alongside a similar one at the Indira Gandhi Memorial Museum, which covers most of her life. The problem with the previous exhibition at Swaraj Bhavan was that the archival images were too small and people couldn't see the details without squinting, especially because a lot of these images were taken in the 1950s and 1960s. Once we were told it would be an outdoor exhibition, we decided to blow up the images so that viewers could appreciate the finer details and beauty of vintage photography," says Mumbai-based curator Deepthi Sasidharan of Eka Resources.
Some of the earliest black-and-white photographs show Indira with her parents and grandfather Motilal Nehru at their home in Allahabad wearing opulent clothes made of heavy silk. "Motilal was a very eminent and affluent lawyer, so Indira was born in a privileged household.
But in late 1920s, as he came in touch with Gandhi and other leaders of the nationalist movement, one could see a visible shift to the cause of Swadeshi movement, with the silks disappearing. One realises that the entire family is dressed in khadi overnight," says Sasidharan.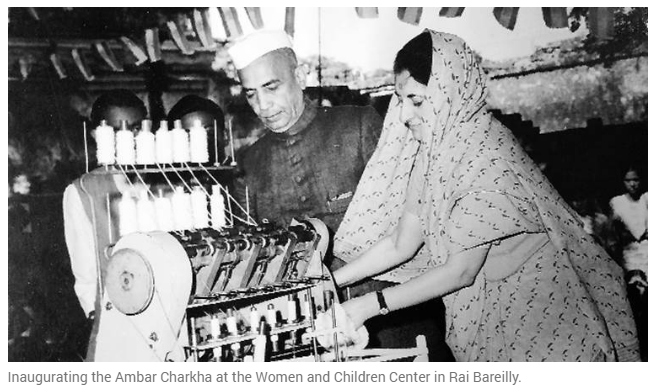 Inaugurating the Ambar Charkha at the Women and Children Center in Rai Bareilly.
A majority of the photographs show her studying at Shantiniketan under the guidance of Rabindranath Tagore.
The second pavilion covers the life of a young Indira, of how she met her future husband Feroze, a fellow Allahabad person and Congress family associate. She went on for further studies in London and returned to get married to Feroze in 1942. A video of her marriage is one of the chief attractions of the exhibition. It was taken by an American as a silent film and later handed over to the family.
In another section, Indira can be seen giving finishing touches to a painting on wildlife by artist MF Husian, inspecting the models and drawings of the Jawaharlal Nehru University campus and Connaught Place, and dancing with folk dancers from the Murla tribal community in Bastar in 1962. Clad in a dark fur coat, she is seen addressing a massive public meeting in Srinagar in 1971. There are also photographs of her at the time of her arrest in Delhi in 1977, before she got a release unconditionally, and visiting soldiers at the army camp in Leh in 1980. Sitting beside Rajiv Gandhi, she is photographed watching the final game of the women's hockey team in the 1982 Asian Games.
Among the other exhibits are the white and blue khadi sari worn by Indira during her days as a young freedom fighter, a red Mizo dress, a personal favourite that she would wear on Sundays, a pair of blue cotton jeans and brown kolhapuri slippers. The small room displaying these serves as a perfect exit point to the show.
The exhibition is on until January 31 at Indira Gandhi Memorial Museum, 1, Akbar Road, from 9.30 am to 4.30 pm